Holy Week at St. Paul's
April 9 - Palm Sunday
8:00 AM Blessing of the Palms, Dramatic Reading of the Passion & Holy Eucharist
9:30 AM Palm Procession, Dramatic Reading of the Passion & Choral Holy Eurcharist
Childcare at both services

April 12 - Holy Wednesday
12:10 Holy Eucharist
7:00 PM Service of Tenebrae

April 13 - Maundy Thursday
6:00 PM Celebration of the Lord's Supper & Stripping of the Altar
Bring soup to share. Please contact the church office to reserve a spot or for more information - (203) 269-5050

April 14 - Good Friday
7:30 AM Morning Prayer
1:00 - 2:00 PM "Palms and Stories" for kids of ages - at the Main St entrance
7:00 PM Good Friday Liturgy, Dramatic Reading of the Passion Story, Veneration of the Cross

April 15 - Holy Saturday
7:00 PM Easter Vigil & 1st Eucharist of Easter

April 16 - The Feast of the Resurrection: Easter Sunday
6:00 AM Ecumenical Sunrise Service, Ashlar Village Pavilion
8:00 AM Festive Eucharist with Hymns
9:30 AM Festive Choral Eucharist
Easter egg hunt after the 9:30 AM service. Childcare at both services.


---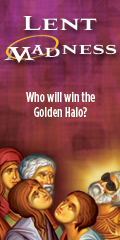 Who needs March Madness when you can get Lent Madness? Go here to find out what it's all about. What is the big match up for the week? Who will win? What does your bracket look like? Join in on the fun and learn a thing or two about the saints along the way!
Director of Religious Education
Open Position
St. Paul's has an immediate opening for the DIrector of Religious Education. This is a part time position and begins on March 1, 2017. For more information, see the job description and contact the parish office at 203-269-5050.

---
---
Summer Office hours:
Tuesday - Friday
9am - 1pm

Phone: (203) 269-5050



Worship Schedule:
8:00am - Rite I
9:30am - Rite II with music
Professional childcare available at both services.
---
Subscribe
Want to know what's happening? Subscribe to our newsletter!